Home
It's That Time of the Year Again!!!!
71st Annual Michigan Bean Festival
Labor Day Weekend Fairgrove, MI - September 1st - 4th!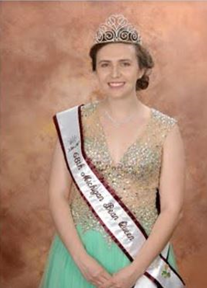 I am incredibly honored to be the 68th Michigan Bean Queen. It is a pleasure to represent the Michigan Dry Bean Industry. Meeting farmers and Bean Festival volunteers has been a wonderful experience. My reign has shown me the importance of the industry and the festival to all involved. The memories gained throughout my reign will always hold a special place in my heart. We have many fun activities and events in store for you at this year's festival and of course, plenty of bean soup! I want to say thank you to the many volunteers who put in countless hours to plan and run the festival every year. I also want to thank the Michigan Dry Bean Commission, all the dry bean growers, queen coordinator Laura, Paige and her parents, and my parents for helping to make my reign such an awesome experience. I am excited to see what the 69th Michigan Bean Queen will do during her reign.
Elisabeth Milligan
68th Michigan Bean Queen
The Bean Festival is looking for some new volunteers. We have many spots that need to be filled before the next Bean festival. If you are interested in volunteering, please contact us.
Golf Registration and Information
Click here to register online - Click here for printable Registration Form
Click Here for Printable Flyer