Home
It's Almost That Time of the Year Again!!!!
70th Annual Michigan Bean Festival
Labor Day Weekend Fairgrove, MI - September 2nd - 5th!
Check back often for updated information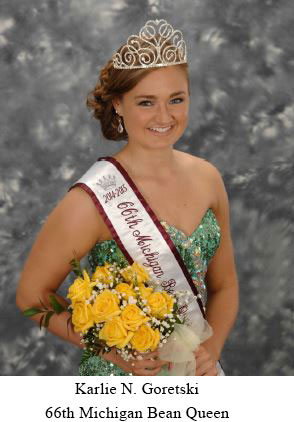 I am very honored to be the 66th Michigan Bean Queen and to be representing the Michigan Dry Bean Industry. During my reign, I have learned how to represent an industry that is so important to this community and our farmers. I have met numerous people associated with the industry and this festival. This is a year full of memories that I will remember for the rest of my life. We have several fun events and activities planned for you this weekend and I hope you have a chance to enjoy your cup of bean soup! I want to thank all of the volunteers who spend numerous hours and days planning this festival, members of the Michigan Bean Commission, all dry bean farmers, and my parents for allowing me to be a part of this wonderful experience. I cannot wait to see what the 67th Michigan Bean Queen has in store for the 2015-2016 year!
The Bean Festival is looking for some new volunteers. We have many spots that need to be filled before the next Bean festival. If you are interested in volunteering, please contact us.